tom eaton / abendromen
Riverwide Records is proud to announce the long awaited solo album by award winning
producer, engineer and composer Tom Eaton.

abendromen, from the Dutch "Abend" (evening) and "Dromen" (dreams)
was created in the long nights during December 2015 and January 2016.
Textural electric guitars, fretted and fretless basses and synthesizers envelop
piano miniatures in a dream for each day of the week.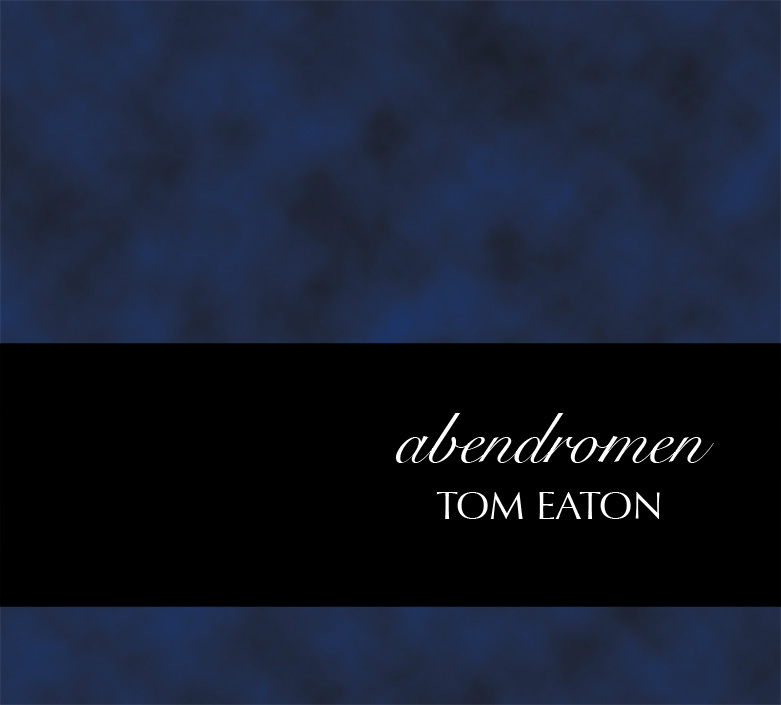 "Tom Eaton's "Abendromen" is a collection of songs that do not inspire introspection so much as demand it. And, to my ears, that's the hallmark of a successful album- music that does not reveal all its secrets in one listening. Rather, in "Abendromen", I hear music that draws me in for repeated listens. Tom's compositions may reference classic ambient music (Eno, Budd, Tim Story), but have a voice and direction all their own- the gentle chillout rhythms of "Tuesday- the Compass", the lovely and restrained electric guitar solos on "Thursday- For Orion"- both point to an expanded musical vision of what ambient music in the 21st century will be.

With arranging and mixing skills that are equal to his compositional gifts, Tom's "Abendromen" is a "must-listen" for anyone who considers themselves to be even a casual listener of introspective instrumental music. For any long time listener of ambient music, however, "Abendromen" is a must-have album."

Jeff Pearce

abendromen on iTunes
abendromen at CD Baby
---
vin downes / unlike the stars
Riverwide Records is thrilled to have the incredible acoustic guitarist Vin Downes join the Riverwide roster for his third release!
unlike the stars was produced by Will Ackerman, Tom Eaton and Vin Downes, and recorded at Will's imaginary Road Studios in Vermont. The album features 11 of Vin's original compositions with additional performances by Tony Levin (bass), Eugene Friesen (cello), Will Ackerman (guitar), David Watson (flutes) and Tom Eaton (piano).
The reviews say it all:
"This album is so very tasteful and musically refreshing that listeners will instantly recognize it as a 'new' classic."
Jim Ellis, Astreaux World Radio

"While Vin's guitar playing is impressive and can range from tastefully understated to dazzling, I am equally impressed with his skills as a composer. Vin has a wonderful sense of composition that brims with emotional content. I enjoyed all the many different spaces he explores, not only from one track to the next, but even within the boundaries of a single song. I must reiterate that his use of dynamics is impeccable, and I appreciated how he uses space to allow a composition to breathe."
Michael Diamond, Music and Media Forum


"The delicate yet impressionable sounds emanating from Vin Downes' guitar will lead you down a path of enlightenment, and I do believe that is the purpose of this music. If that is a fact then his music gets the job done."
Keith Hannaleck, New Age Music Reviews


"Vin Downes is such a brilliant guitarist and such a heart-felt composer that it leaves little room for the producer to do much except try to convince himself that he was indispensible. I wasn't. Vin is a consummate player who draws upon a wide range of styles. The marvelous thing is that his musical voice is unique enough and powerful enough to hold these different threads together seamlessly. His abilities as a player create an even broader palate from which to draw in his performances. This is as impressive a recording as one could hope for."
Will Ackerman, Grammy Award winner and founder of Windham Hill Records
unlike the stars on iTunes
unlike the stars at CD Baby
---
Other Riverwide Records releases
| | | |
| --- | --- | --- |
| | | |
| Pretty House | Not the Whether of Summer | Atlas |
| Liz Mitchell | Liz Mitchell | Susan Levine |
| | | |
| | | |
| --- | --- | --- |
| | | |
| The Honey on the Mountain | Scatter Me | Winter Loves Company |
| Rob Laurens | Susan Levine | Kristen Miller & Tom Eaton |
| | | |